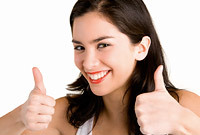 Our Virtual Hairstyler has been in development since December 2000 by a cutting-edge team of hairstylists, IT experts, graphic designers, editors and photographers. We've created a first class system that lets members upload their photo and try on thousands of hairstyles, 50 hair color combinations and 35 highlight colors. With high quality hairstyles from celebrities and salons around the world- in Casual, Formal, Alternative and Men's categories; and in a range of different lengths, textures, colors and highlights- TheHairStyler.com is rightfully acknowledged as the most comprehensive and realistic virtual hairstyling website around.
Productive relationships with professional organizations around the world have been essential to the success of TheHairStyler.com. We are world leaders in everything to do with hairstyling; and complementing the innovative Virtual Hairstyler on our website are a wealth of hairstyle articles and expert advice features. To ensure these articles are up-to-the-minute, and to guarantee the quality of our advice, we've developed effective partnerships with international photography agencies, styling experts and hair salons. TheHairStyler.com's got hairstyling covered and is a key resource for everything to do with hairstyling.
TheHairStyler.com is especially renound for its proliferating number of international members and affiliates. At TheHairStyler.com members enjoy posting their own hairstyle makeovers to our Virtual Makeovers Gallery and commenting on friends' new hairstyles. There's also a database brimming with international salons- so members can find a stylist no matter where they are, and affiliates the world over (such iVillage.com, Braun, and Sedal) are extending the reach ofTheHairStyler.com's Virtual Hairstyler.
It's been a buzzing, exciting and fulfilling time since we began in 2000- and we still love what we're doing! TheHairStyler.com is completely dedicated to its role as a genuine communication tool used to share ideas and concepts between friends and hairstylists in a graphic and truly realistic way. Here's to the future!
Audience Reach
TheHairStyler.com is a leading online destination for everything regarding hairstyles.
We have 1.5 million Unique Visitors per month and growing.
Our audience is over 80% female and affluent.
TheHairStyler.com Affiliate Program:
Click here to join for free.
Thinking of collaborating or Advertising with us?
Click here to view our media specs.