Before you race to the cosmetic counter though and grab the prettiest, most expensive or most affordable red shade you can find, there are a few red lipstick rules that you need to know first.
Rule #1: Find the Right Shade for You
When it comes to choosing red lipstick, forget the fancy packaging and the price. The only thing that matters is finding the right shade for you. The best way to do this is to try different shades on bare lips.
Strip your lips of any balms or other lipsticks so your natural lip color is showing.
Apply a red lipstick shade that you like to your top lip only and then look at the color against your natural bottom lip.
If the red lipstick is one or two shades darker then you've found the shade that will look the most flattering on you!
Can't get to the cosmetics store? Our virtual hairstyler offers some great red lipstick shades for you to try on your own photo! All you've got to do is upload your photo, mark out your lips using the photo editor and select a red liptick color from makeup options, and presto! Instant red lips.
Rule #2: Match Your Red Lipstick to Your Hair Color and Complexion
To really pull off red lipstick successfully you also need to think about how well your shade is going to match with your skin tone and hair color. Get it right, and your lipstick, complexion and hair color will all blend into an effortlessly pulled together look. Get it wrong, and you could end up with lips that overpower and leave you looking like a clown.
To see what I mean, just take a look at these two looks from Cameron Diaz.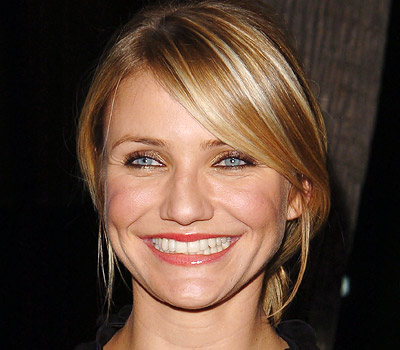 In the first image, her shade of red lipstick works really well with her blonde locks and fits in nicely with her complexion and makeup.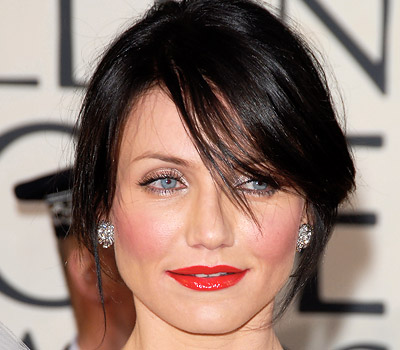 In the second, her bold color choice completely overpowers her look. It's harsh against her pale complexion and clashes with her dark hair color. Going heavy handed on the blush also didn't help.
To know what shade to look for when matching your complexion and hair color you first need to know if your skin tone is warm or cool. If you're unsure then take a look at our Choosing Your Skin Tone and Enhancing Your Hair Color article. Once you know, just team that knowledge with your hair color.
If you've got brown or black hair with a warm complexion then look for shades of red with a brown base. Lipsticks that use words like, deep orange, golden red and coral to describe the shade is what you're looking for. If your complexion is on the cooler side then try cherry reds, plum and burgundy.
Blondes with a warm complexion can get away with coral red, orange red, or copper red. While cool complexions should give anything described as dusty rose, plum pink, light red/rose or any red with a blue undertone a go.
Redheads with a warm complexion should go for orangey, brighter shades of red. While those with a cool complexion can pull off blue toned reds (which make teeth look whiter) and darker reds like plum, berry and brick.
Rule #3: Prepare Your Lips
Before applying any lipstick you should always make sure that your lips are smooth. Also, because red lipstick tends to bleed into the tiny lines around your mouth, it's a good idea to add some lip primer or foundation to your lips as a base, and to use a lipstick liner.
Rule #4: Let Your Red Lipstick Shine
The final rule when it comes to red lipstick is to let it be your focus point. Tone down all other makeup and hide any redness in your complexion with concealer (especially around your nose). Pale skin and the bare minimum on your cheeks and eyes will give you a bigger lipstick pop, just like this great example from Camilla Belle.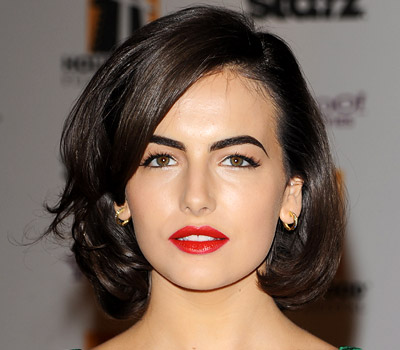 By following these rules and finding the right shade for you, matching it to your hair color and complexion, preparing your lips, and letting your lipstick have the spotlight then you should be able to pull off red lipstick without any problems. The only decision to make after that is how many different shades to buy, and how you're going to fit them all in your handbag!
If you enjoyed this article, share it with your friends or comment below.