Bai Ling has always gotten a bad rap on the red carpet. While yes, she has displayed large amounts of crazy in her hair, makeup and fashion sense over the years, you can't deny that at least she knows how to make herself stand out. We also need to address the fact that this woman is 48! Are her hairstyles and makeup "age appropriate"? Definitely not! But how cool is it that this lady doesn't care about conforming to what is labelled as 'acceptable' by Hollywood standards, and she just does whatever she wants? We say very. Bai Ling gets points for being bold, brave and different!
Now, lets check out some of Bai Ling's most notable hairstyles and makeup over the years.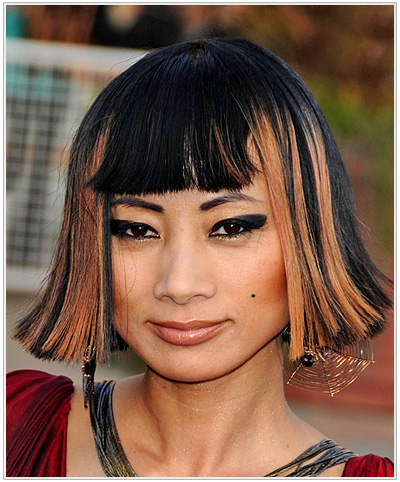 Here, Bai is rocking a classic Cleopatra bob with a twist. The twist being bright orange chunky highlights, that is! Not everyone can pull off this colour of hair but with her warm complexion and dark features, Bai can pull off a wide spectrum of colours from light to dark. She has a square face shape as well, which actually shouldn't work with this 'do at all but she somehow manages to pull it off. To style, Bai has used a flat iron to turn the ends of her hair and fringe slightly up for an even boxier look.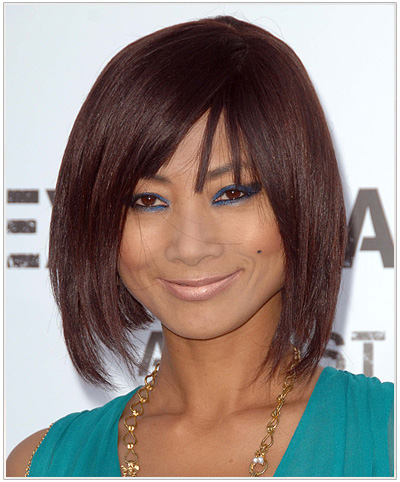 It's strange to find a celebrity that shocks people when she has a "normal" hairdo, but Bai Ling is one of them. We are so used to seeing her in crazy, outlandish hairstyles that when she tries out a mainstream 'do, it really is shocking! Here is an example. Bai is wearing a gorgeous mahogany brown bob that has soft layering throughout. The fringe is layered as well to create a soft frame around the eyes, and the ends of the bob are jagged cut and longer in the front, which sculpts Bai's face nicely. This cut is ideal for her square face shape and the colour is pretty much perfect for her. Bai's makeup has also softened up greatly here which givers her a nice youthful glow. This look proves that Bai can pull off 'normal' looks, but she prefers the more bold and outlandish looks on a day-to-day basis.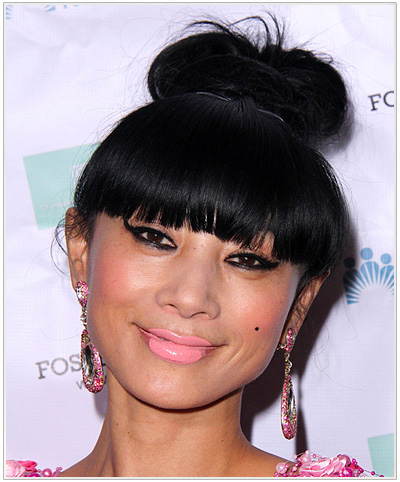 And, here she is in one of her most recent looks. Bai has ditched the more conservative bob and has gone for jet-black locks and an extreme fringe. Her blunt bangs go from ear to ear in a semi bowl-cut fashion giving her a bold fringe line. The rest of her hair has been swept up into a topknot and secured in place. This hairstyle is not one of Bai's craziest 'dos but it does suit her style. The jet-black hair looks great with her skin tone and eye colour, not to mention her pretty pink makeup palette too!
Say what you want about Bai Ling but you can't deny she doesn't do anything by halves! She is always changing her look up and turning heads wherever she goes, and is looking great at 48 too!