At TheHairstyler.com we like debate- you know, going head to head with someone when you don't quite agree with their opinion. Recently Sue and Roger went head to head talking about short hair, and today two of our most respected consultants, Serah and Roy, are going head to head about the hairstyles at this year's Emmys.
They've each chosen what they think are the most interesting Emmy hairstyles, and then they've commented on each other's choices. Read what they say about the hairstyles and how to achieve them yourself, and most importantly, see if you agree with their styling criticisms.
Heidi Klum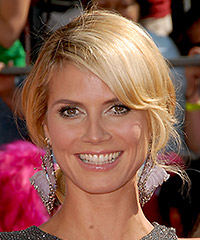 Serah says: I really think this a head-turning hairstyle for Heidi. The best thing about it is that it's simple, and elegant at the same time. Her golden delicious length was pulled back and tied at the nape to expose more of her pretty face, proving it's a hairstyle perfect for those with longer faces. Side-swept bangs were another great feature that balanced-out her face shape and demonstrated the style's versatility. I'd recommend this hairdo for any special occasion because it's easy to re-create and will hold well in any weather condition.
Roy says: Come off it Serah, you actually rate this as good? I agree with some of your points: it is "simple" and "head turning," but too simple for my liking and I reckon it's turning heads in the opposite direction. This "Nape Knot" style (as I call it) seemed to be the signature look at the 2008 Emmys, and Heidi's just jumped on the band wagon. And something else I thought is that she looked just a little masculine (some are even saying that Heidi had a drag queen look about her). Finally, I think her color was too light and washed-out looking. It needed more honey tones to brighten her peaches and cream complexion.
America Ferrera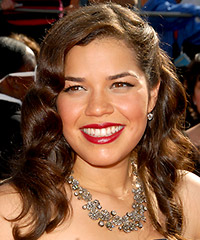 Roy says: Well it looks like America went for loose and soft sultry waves with this long and slightly layered look. She's got finger waves in the top area, and you can tell the style was supposed to finish in loose barrel curls, but it didn't really work 'cos they pretty much fell out straight away. I like how the left side is pinned back and shows off America's cheek bone structure- the geometry of the style really suits her face shape well- but unfortunately that's the only good thing I can say. All in all the execution of the style is terrible. Sorry America.
Serah says: I think America was trying to go for a more classic hairstyle which, from the roots to mid-lengths looked fantastic. But I agree with Roy: anything below that looked "collapsed." A traditional roller set would've held her waves a lot tighter than what she ended up with (maybe she ran out of strong hair lacquer too). At least we can say her makeup looked great...
Kate Walsh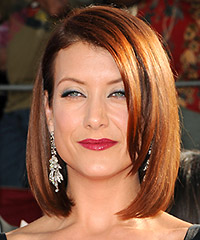 Serah says: Definitely a slick look for Kate who's jumped on the "bob band wagon" like so many others. But was it too plain for her? Hmm I'm wondering... We're so used to seeing Kate with luscious wavy locks and stunning updos and this was just a blunt-cut bob with soft layering through the front. It was sleek, but flat... so I'd have to say that it was a little plain overall. Really, the only good thing about Kate's hairdo was that her color looked fresh and vibrant and made her eyes stand out in the crowd.
Roy says: You know I can't believe I'm seeing another boring hairstyle for what is supposed to be a major event. Perhaps next year the organizers should write down "black tie and formal hairstyles a must" on their invitations. Kate's layered front area works for me, but her sides are about 3 inches too long, making her hair look fine and flat, and making the overall shape look too long for her face. I think some shorter angled bangs would have helped here... Lastly, the color is plain but okay: at least it's the right tone for her complexion.
Jennifer Love Hewitt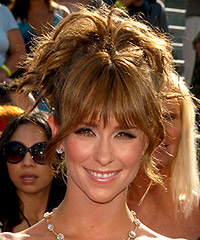 Serah says: This is classic example of "what not to wear" to a major event like the Emmys. Either her car window was down on the way to the ceremony, or she really wanted to look like she was nesting a family of small birds in that 'do of hers. The back was dressed in waves, but not very well since straight frizzy pieces were noticeable all over the place through the top. I would've used a little serum to seal her ends and create a smoother finish (avoiding that fuzzy look). Let's hope she doesn't make the "bird-nest" effect a habit.
Roy says: Yes I'd have to agree with you again Serah. Here we go again: natural frizzy hair and no styling products in sight! What's going on? If anything this hairstyle really demonstrates how bad anybody can look, even celebrities who pay thousands of dollars for their hairstyles. The back looks a little better than the front... it was more organized, but the entire look was high, hairy, and hideous. Maybe Jennifer just saw a ghost.
There you have it: Roy and Serah's head to head debate about what they think are the most interesting Emmy's hairstyles and why. My advice to you is this: read their opinions, think about their styling criticisms, and use this knowledge yourself when you're thinking about getting your own hairstyle change.