Last week I said that before Miley Cyrus attends the MTV Video Music Awards she really needs to pick up her game and improve her hairstyle. Oh, and I said the same about Taylor Swift and Britney Spears (and 4 other MTV nominees). Did you look at the pictures? Who can blame me: their hairstyles were very, very average.
Now the awards have just happened and we're hot on the heels of the action. Miley, Taylor and Britney and all the other nominees I looked at last week (in part one of our coverage) have had plenty of time to get their acts together and plan their new outfits and hairstyles. So lets take a look at the awards from Sunday night and see if their hairstyles got better or worse.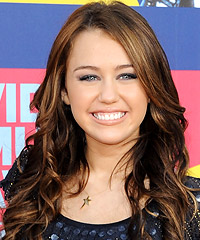 Surprise, surprise, Miley's stuck with her signature soft layered style. It's good for promoting body in fine, lifeless hair, and medium size hot irons have been used to create those loose and natural spiral waves. It's a great hairstyle, but it'd be quite difficult to do yourself.
Better or Worse? Consistently Unsuitable
Miley's hair has basically stayed the same since I wrote part one of our coverage of the MTV awards- which means she hasn't really changed her look since the Teen Choice Awards (has she even had a trim?) I get it Miley: you're busy planning your birthday and your next scandalous photo, but you need to prioritize that hair. Your round face shape really needs a straighter hairstyle and a center part.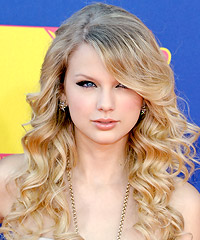 Taylor is wearing a long one length style with soft layers through the left front areas.
Better or Worse? Better
Taylor's hairstyle at the VMAs has made some big improvements on what I described last week in part one. More layering on the left hand side, extending down from her bangs, adds some bounce and body to her fine hair, and the extra length adds an attractive "healthy" quality to her hair (I can't see a single split end either). Taylor's color has also changed, and now has titian honey overtones that suit her complexion and bring her face to life. Overall: a great improvement and very sexy!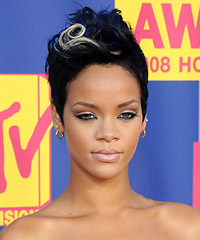 Well this is a unique way to do something different with really short hair. It actually looks dressed up! It has been teased and moulded into position through the top, and then lacquered down. The blonde hair extension in the top area at the front, with the kiss curl, is a very clever way of adding contrast and providing a nice element of femininity.
Better or Worse? Worse
Even though Rihanna's done a great job showing how short hair can be sexy and a bit more formal, she's still missed the mark for me a little. I like the element of femininity, but I really think some soft bangs, or even partial bangs, are needed to balance-out the shape a little more. The blonde piece adds some nice contrast too, but I think it looked too high and out of place.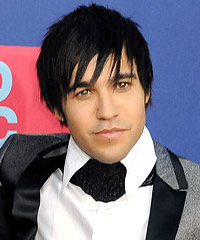 Pete's sporting a top-heavy razor-cut that's all about messy texture. This hairstyle works extremely well on straight coarse hair. It's easy to style, probably because it's all about being messy.
Better or Worse: Much Worse
Since I wrote about his hair in part one, Pete seems to have gone even shorter. That's a shame because he's done the opposite of what I suggested he needed to do to balance-out his diamond shaped face. But at least he lost the cardigan and the (fake?) glasses. But like I said, balancing-out that diamond face shape of his should be his priority- now more than ever because his head looks too big for that tux. Pete: "Grow some more hair in the back!" Let's hope he gets it.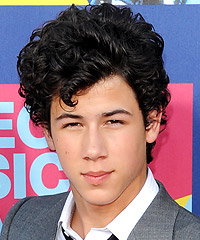 This big, top-heavy style has an "old crooner" theme about it that would make the likes of Tony Curtis green with envy. The sides and back, with their 50s "greasy" effect, hold the curls in place.
Better or Worse? Worse
I still think Nick's hairstyle looks too old for his age. This week it's a bit more 1950s than the hairstyle I described in part one (which was more "Duran Duran")- but overall they're pretty much the same except for the wet greasy look he's got going here. Oh, and his bangs go from left to right now too (that styling change must have taken days to decide). All in all your hairstyle's too old for you Nick, and basically boring.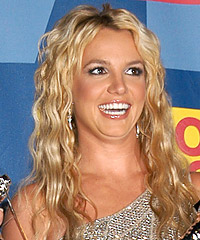 This is a simple one length style (except for the bangs) which is soft and gracious. Blonde highlights create the effect of texture and three-dimensionality by making the hair appear to have more light and shade.
Better or Worse? Much Better
What a transformation! Britney's the comeback queen this year for sure. In part one I recommended Britney go for a golden tone more suited to her peaches and cream complexion, and guess what? She did just that! I probably would have suggested straight hair too (it would have looked even shinier), but the curls worked well to create a lovely diva effect. Nice job Britney!
The jury's in and I think it's safe to say that the majority of celebs we featured didn't really lift their hairstyling game enough. But Britney definitely takes the cake for the biggest hairstyle improvement. I guess the moral of our coverage of the VMAs is that no matter how famous you are or how much time you have to prepare (or how great your outfit is), you should always choose a hairstyle that suits you. It's easy to get it wrong, but it's also easy to get it right (if you're interested, try "Find Your Perfect Hairstyle," our free hairstyle consultation).