Would you guess that Holly Hunter is 55 just by looking at her? Chances are most people wouldn't. Holly looks fabulous with a glowing complexion and just look at that glossy mane of hair! While most of her over-50 counterparts are cutting their hair off for a more 'respectable' look or covering their greys with flat, monochromatic color, Holly is looking youthful and radiant with her long honey blonde locks. It just goes to show that with the right hairstyle and color, anyone can look years younger. It helps if you are into healthy living like Holly is as well—after all, even the best haircut and color is rendered useless if you never exercise, smoke a pack of cigarettes a day and eat terribly! But if you maintain a healthy lifestyle then growing and wearing your hair long should be no problem for you.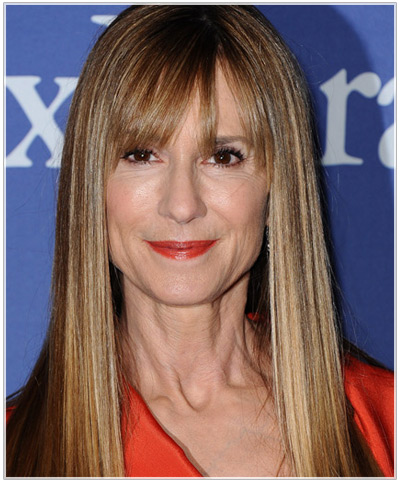 Here are some tips to help you achieve this look:

Holly is a fan of Moroccan Oil products, which is probably why her hair is so sleek and shiny all the time. Find a good shampoo and conditioner with argan oil in it to keep your hair shiny and luxurious and to help fight split ends.

Using a lightweight shine spray is a must for women who have long hair over 50. As we age, our hair becomes lacklustre and loses some of its natural gloss. A shine spray will replenish your hair's natural glow.

Holly seems to have gotten away with it, but layers are usually a must for mature hair. Adding layers to your long hair will give it movement, body and bounce, while growing it out to one length will look flat and boring.

If you need some extra thickness, try adding some extensions to your hair. If you are serious about going long, head down to your salon and get the real deal. If you can't be bothered with the cost or the hassle of having permanent extensions, then try some of the great clip-in options that are on the market. Find ones that match your color and voila- your hair will become thicker and longer in an instant!

Regular trims are a must with long hair, especially if you have a fringe. Keep your long hair looking thick and healthy by visiting your stylist often for touch-ups.

Do weekly oil treatments. There's nothing like a little TLC for your hair to make it look glossy like Holly's. Use a leave-in argan oil treatment once a week and notice just how luxurious your hair becomes!

If you can pull off bangs like Holly, go for it. A beautifully cut fringe that softly frames the eyes will take years off your look. Just make sure they suit your face shape. For example, if you have a square face shape you may want a side-swept fringe, whereas if you have a circular face shape, a blunt bang will work better for you.

Finally, if you want to help your hair from the inside, make sure to eat lots of foods that are rich in Omega-3s, the vitamin responsible for glowing skin and shiny hair. You can get this nutrient from foods like flaxseed oil, salmon, walnuts, edamame beans and Omega-3 fortified eggs.