Kelly Osbourne is definitely one to experiment with her hair and makeup, which is always a good thing. But lately, she has been way off the mark with her hairstyles, as seen in this recent red carpet photo. This hairstyle was all wrong for her face shape and the color was lacklustre, rather than a lovely lilac. So what's a girl like Kelly to do? Read our tips below to find out how she, and other women with a triangle face shape, can create the perfect hairstyle.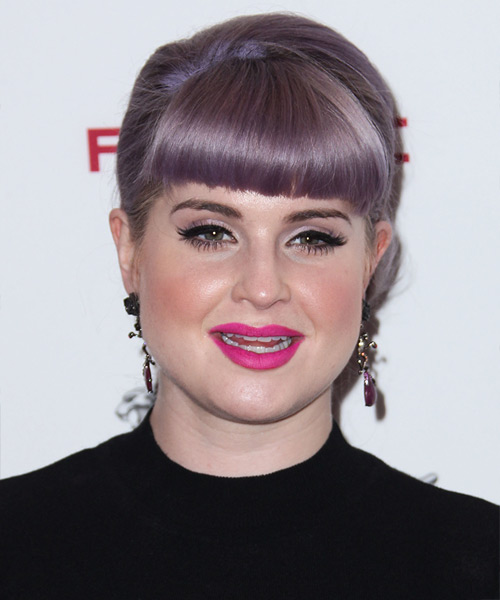 Note: This applies to women with jawlines that are wider than the cheekbones and forehead area. This is sometimes referred to as an inverted triangle face shape.


Hairstyle Don'ts for Women with Triangle Face Shapes
- Kelly has committed the ultimate hair crime for triangle face shapes - the blunt, straight across fringe. If you must rock bangs, go for ones that sweep to the side and sit on an angle. Or, you can pull off the Bardot Bang--long bangs that are parted and fall next to the eyes or cheekbones.

- Highlights should be worn by triangle face shapes, especially throughout the crown and fringe areas. This will break up blocky colors and draw the attention away from strong jawlines.

- Updos for triangle faces should have some face-framing layers left down to contour the jawline. Pulling the hair back tightly like Kelly has done here only emphasizes the wide jawline of the triangle face shape.
A great alternative is to only wear half of the hair up, like Ashley Hinshaw in the photo below. Pull the hair back just behind the ears and allow the rest of the hair to fall around the shoulders. Leave the fringe out as well for best results.
Hairstyle Do's for Women with Triangle Face Shapes


- Keep your hair on the shorter side. Long hair tends to be too bottom-heavy for triangle faces shapes. However, one short cut that you should avoid is a blunt bob - this is too harsh of a cut for your face shape.

- Add slimming layers to your hair that taper around your chin area. This will minimize the appearance of having a bottom-heavy face shape.

- Make sure to add lots of volume in the crown, whatever style you choose to wear. This will bring the attention up to your eye area and give you some lift where you need it the most. Just take a look at Jennifer Hudson's funky angled 'do (pictured below) to see what we mean. To get this look, ask your stylist to add choppy or jagged layers throughout that gradually get shorter near the crown area.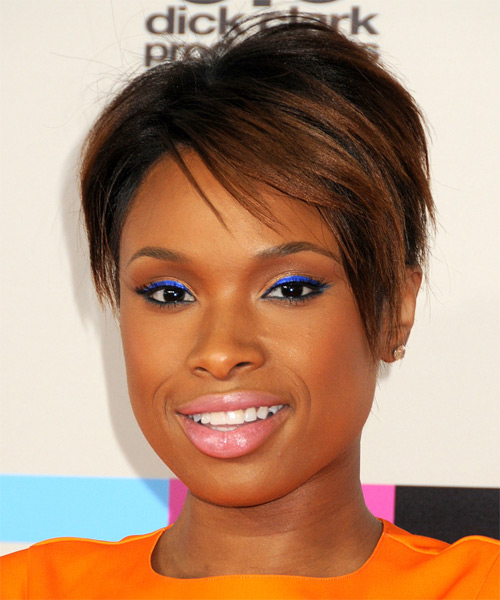 In conclusion, Kelly wasn't representing the triangle face shapes so well. To improve her look, she should grow her bangs longer and sweep them to the side, or go for a cool Bardot bang. The rest of her hair would look better in a soft demi-updo or left down with some highlights added throughout. On a positive note, we do love the cool fuchsia lipstick she is flaunting. So, it's not all bad news for Kelly!