Actress Stana Katic is best known for her role in the series "Castle", but she also gets a lot of recognition off-screen too for her gorgeous looks and classic sense of style. Stana is of Croatian and Serbian descent, which is apparent in her strong bone structure and overall stunning looks. She also has a square face shape and strong jaw line, which can present problems for some people with these same features when it comes to their hairdos. For starters, full-on fringes are a no-go, as are blunt shorter styles that end near the jaw line. There are, however, many hairstyles that will work on a square face nicely as Stana demonstrates below. Check out her 'dos for some new hairstyle ideas if you have a square face shape too.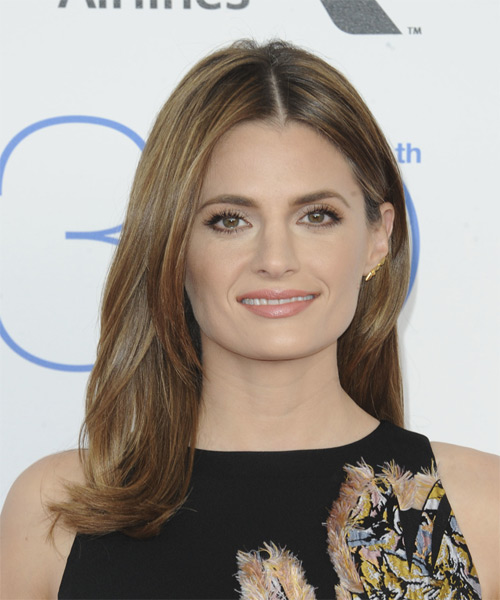 In her most recent 'do, Stana has gone for a simple yet elegant layered hairstyle. This is perfect for squares as the soft layers around the face camouflage a strong jaw line and add some body and bounce throughout. Stana has styled her hair with a round brush to create large waves as well, giving her hair added softness and shine. Square face shapes look great in hairstyles with wave or curls as it tends to soften up any angular features. She got the parting right as well, going for an off center part here. Squares should avoid sharp center parts and go for side or off-center ones instead for a more flattering look.
Proving that square face shapes look cool in curls, here is Stana wearing a formal curled hairstyle. Her large curls give her hair a ton of body and bounce while her square face shape is flattered with the softness of this look. Stana has swept the hair back off the face, and has gone for a barely there part. Overall, this 'do makes her hair look glossy and full of bounce and body. It would also look lovely swept back into a loose, low chigno - squares look fabulous with their hair worn back!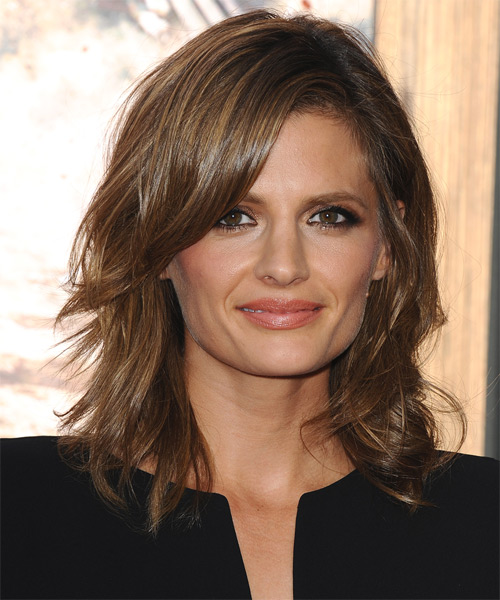 Here, Stana is looking fabulous in this medium length layered 'do that is perfect for a square shaped face. The ends have been jagged cut so there aren't any blunt edges around the jawline, and the rest of the hair has been layered to take out any bulk that may otherwise weigh the face down. Square shapes in particular need to guard against wearing long, blunt, heavy hairstyles as it will highlight the jaw line and create a boxy appearance. This hairstyle is the perfect remedy for that problem with its soft jagged layers, and the peek-a-boo fringe is a bonus as well.
As you can see, Stana knows how to work her face shape and always chooses hairstyles that suit a square nicely. Take a note from her stylebook if you are a square and opt for lots of layers, soft waves and a side swept fringe for best results. You might want to copy her gorgeous hair colour as well, which is a light brown base with soft sun-kissed highlights throughout. Click here for even more Stana Katic hairstyles.