Scarlett Johansson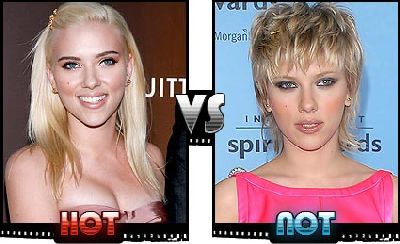 This silky straight 'do is the perfect style and shape for Scarlett and makes great use of her diamond face shape. Because the top sections of her hair have been pinned back it creates a fuller, more stunning look over all. I'm not too convinced with the razor cut style as it lacks shape and volume, not to mention that it does nothing for Ms Johansson's gorgeous face.
Meg Ryan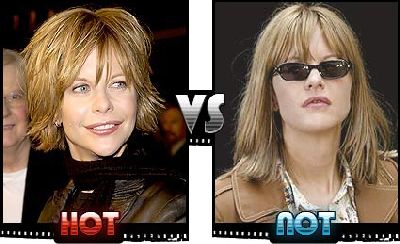 I simply love this razor cut look on Meg. It works because the length has been cut to her chin and her wispy layers have been flipped out to add width to her narrow face. The bangs have also been left long and messy but not too heavy, allowing her gorgeous face to shine through. The long and simple style is a little too heavy for Meg, and with little shape, it makes her face look longer. The heavy bangs are also too much for Meg and hide her face.
Kelly Osbourne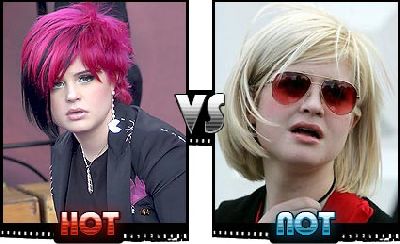 Out of all of the hairstyles, I would have to say this is my favorite. It has imagination and I'm pretty sure only Kelly could really pull it off perfectly. Kelly has a full figured face shape and her stylist has complimented this by cutting her hair uneven all over, including the bangs. The biggest point here is that the haircut is left flatter rather than full, which will add length to her round face shape. Although the other style has the same dimensions in mind, it lacks shape and is cut too close to her chin, which will add width to her already full face.
Felicity Huffman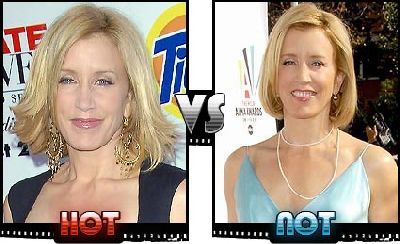 This is a funky modern look for this desperate housewife. Felicity has a long narrow face shape and cutting her mid-lengths and ends wispy and flicking them out has added width and fullness in all the right areas. The one thing I do not like about her other style is that it's too flat and lacks movement, which means that it doesn't show off all her great features.